Capital of Edmonton and a population of 4,196,000. Calgary is the largest city. The GDP is $326.433 billion with a GDP per capital of $84,390, highest in Canada. Crude oil, synthetic oil, and natural gas are huge industries, with the oil fields near Fort McMurray contain 1.6 billion barrels of untapped oil. The oil industry collapse in 2014, along with the NDP government, led to large debt and unemployment. Wheat, Canola, and bees are the largest agriculture in the south. Northern lumber and wood plants also contribute, along with tourism from West Edmonton mall and the Calgary Stampede. Highway 2 connects Grande Prairie, Edmonton, Calgary, Fort Macleod, to the US border. The Trans-Canada Highway passes through Calgary and Medicine Hat in the south. Calgary and Edmonton are both equipped with International Airports. The CPR operates the railway within the province. 
Military
Edit
Air Force
Edit
Special Operatives
Edit
GDP: $326.433,000,000
GDP per capita: $84,390
Currency: CAD, Canadian Dollar
Government
Edit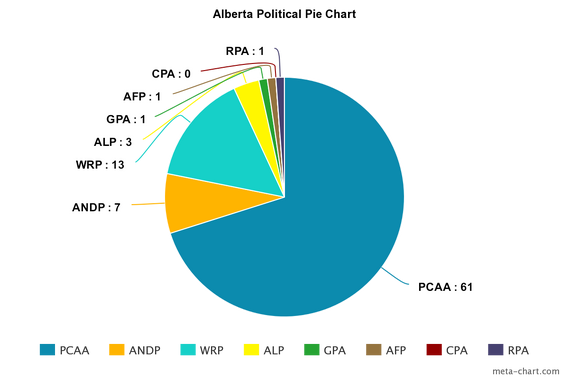 PCAA: Progressive Conservative Association of Alberta
ANDP: Alberta New Democratic Party
WRP: Wild Rose Party
ALP: Alberta Liberal Party
GPA: Green Party of Alberta
AFP: Alberta First Party
CPA: Communist Party of Alberta
RPA: Reform Party of Alberta
Current Government
Edit
Premier Jason Kenney, leader of Progressive Conservative Association of Alberta (PCAA), with a 70% majority of the legislative assembly.
Unite the Right Movement
Edit
A political movement to unite the PCAA and the WRP into the Progressive Conservative Party of Alberta. This would likely increase the chances of the right-wing party to remain in power.